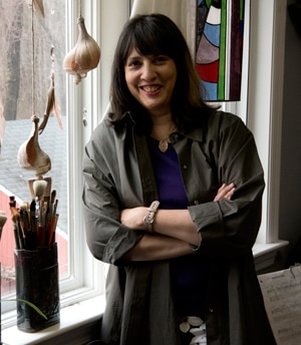 An Early Start
I remember coloring my way through childhood. Prior to attending school, Crayola crayons, standard coloring books, watercolor-infused* coloring books and, for a time, the white Bristol board pieces included in Hostess cupcake packages kept me busy with images to embellish. All these components, plus occasional gifts of children's watercolor sets and oil-based paint-by-numbers kits, supported me in steadily developing a passion for art-making.
Simultaneously, I found myself enraptured by the cobalt blues and crimson reds of stained glass windows and votive candle holders in my parish church. An early memory of being led by Mom into a then-recently built Stamford landmark, known as the Fish Church because of its deliberate appearance, remains one of my favorites. Mom also included me on holiday visits with an elderly friend and mentor who happened to collect antique cobalt blue and crimson glass bottles, displayed in the windows of her sitting room. By the time I was introduced to the creations of Louis Comfort Tiffany during art history classes in high school, I had established deep resonance with the purity and energy of colored glass when light passes through it.
Born in Stamford, Connecticut, in 1960, and raised in the Springdale section of town, I benefited from a comprehensive public school program that included a broad range of art instruction as well as an impressive collection of professional art hung in common area hallways. I recollect my elementary school art teacher as generally creative and 1960s-style glamorous, though occasionally misinterpreting personal symbolism when it deviated from general instruction.
Although middle school passed in a blur, lacking memorable creative moments, daily art classes in high school consisted of drawing instruction using various media and subjects, with painting in watercolors and acrylics added during my junior and senior years.
All this while, I enjoyed artwork installed in relatives' and friends' homes. Currier & Ives as well as Constable reproductions hung on my grandparents' living room walls. An aunt and uncle owned several original oils variously depicting Italian landscapes, a Gypsy woman, and a still life including a white Persian cat. One of my best friends, met in eighth grade, lived in a custom-designed home enhanced by a variety of pieces in several media: portraits, landscapes, sculpture, photography and innovative op art. Whenever in church or in one of these homes, I sensed a special level of support reinforcing my parents' encouragement.
Inspiration and Development
I find Nature to be my primary muse, yet it took my first journey to England, with another best friend in 1985, to wake my full interest. While managing intense jet lag, my friend and I navigated our way to Regent's Park, where we stumbled into Queen Mary's Rose Garden. Thinking, "I always hear about 'stopping to smell the roses'", I decided to plunge into an especially large, apricot-colored blossom along the path and very nearly stayed there after smelling its intoxicating fragrance. I credit that moment as a turning point in my awareness. Since then, I have paid increasing attention to flowers, animals, and the greater natural world. My inspiration occurs in moments when some shimmering beat catches my attention and provides stabilization, saying "Don't move too fast…Pause...catch your breath...and notice…" When I heed that inner voice, I experience a soft goldenness pervading, as if my body has merged with the light and color I'm perceiving.
Occasional forays into symbolic expressionism have produced interesting images, which I have attempted to expand into my main direction. I have realized, however, that I need to rely on visual references to consistently access a deeper language or alphabet. Contemporary, regionally based artists Cynthia Winika, Lisa Pressman, Tom Brenner, DeAnn Prosia, and (now deceased) Barbara Rothenberg have shared their techniques and guidance via engaging courses over the past 16 years or more.
I worked out of a series of three studios at two old factories in Bridgeport, Connecticut, for a period of about seven years, during which time my explorations were featured in a full-page, local newspaper article, "Southport Artist Showcases Her Spirit and Space in Exhibit." [Fairfield Citizen-News. Wednesday, September 13, 2006. Rita Papazian.] When the second facility was sold in 2008 to a local developer, I moved paints, easels, and lighting fixtures back home to Southport, working out of our basement until an addition in 2010 provided daylight and a fresh perspective. Since then, I have been steadily improving my technique, investigating various paint brands, solvents, and paint application in varying textures on different supports, with special interest in the glazing effects achieved by Maxfield Parrish.
Several dear friends and relatives have passed on, I have survived life-threatening health issues, and much of my personal landscape has changed, so my intention has evolved into documenting a timeless, captivating quality of light, shadow and color that evokes memories of cherished moments in personal relationships. When an image allows for it, I use the color I sense in the moment of witness, rather than the color most visible. I paint as smoothly as possible to provide peace-filled sanctuary.
I continue to experiment with other media, especially oil-based pigment sticks, encaustic, and stained glass constructions, anticipating the eventual creation of a distinctively abstract series. For now, my primary painting technique travels between the styles of Nicholas Verrall and Philip Guston.
Maxfield Parrish, John Singer Sargent, and Henri Matisse lead me on, with Jay DeFeo and Frida Kahlo lending inspired support. I use Nicholas Verrall's book Colour and Light in Oils [with Robin Capon, London: Batsford, 2008.] as my main primer and refer to Wolf Kahn's America for balance.
Currently a member of the Art Society of Old Greenwich, Katonah Museum Artists' Association, and the Cultural Alliance of Fairfield County, I have won a "Best in Oils" award from ASOG for their Garden Show, April 2015 and "Best in Show", for the Oil Drum Trash Can competition in Bridgeport, May 2006.

*One would run a wet brush or finger over a seemingly blank image to activate the pigment.

---