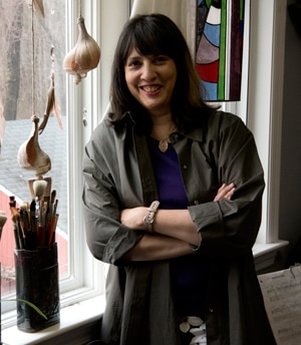 An Early Start
Mariya Rivera remembers coloring her way through childhood. Prior to attending school, Crayola crayons, standard coloring books, watercolor-infused* coloring books and, for a time, the white Bristol board pieces included in Hostess cupcake packages kept her busy with images to embellish. She once hand-copied the illustration on the cover of a Golden Books edition of Disney's Sleeping Beauty to send to Romper Room, a New York City-based children's television program popular in the 1960s. All these components, plus occasional gifts of children's watercolor sets and oil-based paint-by-numbers kits, supported Rivera in steadily developing a passion for art-making.
Simultaneously, Rivera found herself enraptured by the cobalt blues and crimson reds of stained glass windows and votive candle holders in her parish church. An early memory of being led by her mother into a recently built Stamford landmark, known as the Fish Church because of its deliberate appearance, remains one of her favorites: not only was the building an unusual shape, the ceiling sloped all the way to the floor on either side of the nave and entire sections contained thick pieces of stained glass. Her mother also included Rivera on holiday visits with an elderly friend and mentor who happened to collect old, cobalt blue and crimson glass bottles, displaying these in the windows of the sitting room. Even kaleidoscopes would induce a quickening of pulse. By the time she was introduced to the creations of Louis Comfort Tiffany during art history classes in high school, she had established deep resonance with the purity and energy of colored glass when light passes through it.
Born in Stamford, Connecticut, in 1960, and raised in the Springdale section of town, Rivera benefited from a comprehensive public school program that included a broad range of art instruction as well as an impressive collection of professional art hung in common area hallways. She recollects her elementary school art teacher as generally creative and 1960s-style glamorous, though occasionally misinterpreting personal symbolism when it deviated from general instruction. One such example stands out in Rivera's mind. When her second-grade class was instructed to paint a picture of oneself and one's best friend, Rivera decided to add a medium brown spot to her own image to indicate her slightly darker skin tone. (This predated any true drawing instruction, so the "portraits" were somewhat developed stick figures, painted in poster paint.) Handing it in at the end of class, Rivera felt a sense of accomplishment and jubilation. The art teacher held up everyone's work in turn, but in reaching Rivera's, remarked, "Now why would someone paint themselves as being dirty?" without allowing for any explanation. Rivera remembers feeling stunned and humiliated at this lack of understanding. Years later, however, she experienced another project as proof she had a knack for draftsmanship and color. Her fifth-grade class was divided into 3 groups, handed little cards with a different design and superimposed grid on each, and instructed to copy the image onto a much larger sheet of paper that contained a matching, larger grid, marking Rivera's first opportunity to transpose an image this way. She recalls feeling exhilarated by closely matching the colors as well as the shapes. She and her classmates learned after completing the project that their pieces were equal-sized details of three images by world-renowned artists. Rivera remembers her sense of delight viewing each of the three resultant class-rendered compositions when all the individual components were assembled in the correct order and place: it was generally agreed that the variations created an even more interesting painting than the original.
Although middle school passed in a blur, lacking memorable creative moments, daily art classes in high school consisted of drawing instruction using various media and subjects, with painting in watercolors and acrylics added during her junior and senior years.
All this while, Rivera enjoyed artwork installed in relatives' and friends' homes. Currier & Ives as well as Constable reproductions hung on her grandparents' living room walls. An aunt and uncle owned several original oils variously depicting Italian landscapes, a Gypsy woman, and a still life including a white Persian cat. One of her best friends, met in eighth grade, lived in a custom-designed home enhanced by a variety of pieces in several media: portraits, landscapes, sculpture, photography and innovative op art. Whenever in church or in one of these homes, Rivera sensed a special level of support reinforcing her parents' encouragement.
Rivera began her freshman year at the College of New Rochelle, New Rochelle, NY, as a double-major in art and religious studies, yet discovered art history temporarily more engaging. Mid-year she elected to change focus to accommodate this preference. This unfortunately stymied her painting process for a while, as she found herself equally enthralled by the work of Degas, Van Gogh, Cezanne, Gauguin, Matisse and Picasso, and had difficulty connecting with her own inner voice. Subsequently, she dabbled in painting for at least a decade before admitting to herself that she needed to paint and express her vision.
Inspiration and Development
Rivera finds Nature to be her primary muse, yet it took her first journey to England, with another best friend in 1985, to wake her full interest. While managing intense jet lag, Rivera and her friend navigated their way to Regent's Park, where they stumbled into Queen Mary's Rose Garden. Thinking, "I always read about 'stopping to smell the roses'", Rivera decided to plunge into an especially large, apricot-colored blossom along the path and very nearly stayed there after smelling its intoxicating fragrance. She credits that moment as a turning point in her awareness. Since then, she has paid increasing attention to flowers, animals, and the greater natural world. Her inspiration occurs in moments when some shimmering beat catches her attention and provides stabilization, saying "Don't move too fast…Pause, catch your breath, and notice…" When she heeds that inner voice, she experiences a soft goldenness pervading, as if her body has merged with the light and color she's perceiving. She claims, "Painting, for me, presents an opportunity to express my experience of earth-as-heaven."
Occasional forays into symbolic expressionism have produced interesting images, which Rivera has attempted to expand into her main direction. She has realized, however, that only by relying on visual references can she consistently access a deeper language or alphabet. This has necessitated several re-calibrations, as she once found herself working in a manner so cramped that a colleague observed it as looking fussy. She decided to matriculate in courses she describes as "cross-training", designed to pull her beyond familiar, default work methods. Contemporary, regionally based artists Cynthia Winika, Lisa Pressman, Tom Brenner, DeAnn Prosia, and (now deceased) Barbara Rothenberg have shared their techniques and guidance via such courses over the past 16 years or more.
Rivera worked out of a series of three studios at two old factories in Bridgeport, Connecticut, for a period of about seven years, during which time her explorations were featured in a full-page, local newspaper article, "Southport Artist Showcases her Spirit and Space in Exhibit." [Fairfield Citizen-News. Wednesday, September 13, 2006. Rita Papazian.] When the second facility was sold in 2008 to a local developer, she elected to move paints, easels, and lighting fixtures back home to Southport, working out of her basement until an addition in 2010 provided both daylight and a fresh perspective. Since then, Rivera has been steadily improving her technique, investigating various paint brands, solvents, and paint application in varying textures on different supports, with special interest in the glazing effects achieved by Maxfield Parrish. As exemplified by her floral series, this glazing technique produces smooth finishes and creates threshold landscapes, magnifying a flower's components to establish a borderland between recognizable features and abstraction. Her golden moments series, by contrast, uses glazing to unify areas, relying on more visible brushstrokes to achieve a sense of shifting light.
Several dear friends and relatives have passed on, Rivera has survived life-threatening health issues, and much of her personal landscape has changed, so her work has evolved into documenting a timeless, captivating quality of light, shadow and color she witnesses while visiting specific locales, interacting with companion animals, or glimpsing gathered objects. This quality evokes memories of cherished moments in personal relationships, buoying her daily journey. When an image allows for it, she uses the color she senses in the moment of witness, instead of the color most visible. She paints as smoothly as possible to elicit a quiet pause and create sanctuary for the viewer.
She continues to experiment with other media, especially oil-based pigment sticks, encaustic, and stained glass constructions, anticipating the eventual creation of a distinctively abstract series. For now, her primary painting technique travels between the styles of Nicholas Verrall and Philip Guston, presenting looser rendering than previous work, while documenting personal experiences not quite so classic as Verrall's witness and not so cartoonish or satirical as Guston's.
Maxfield Parrish, John Singer Sargent, and Henri Matisse lead her on, with Jay DeFeo and Frida Kahlo lending inspired support. She uses Nicholas Verrall's book Colour and Light in Oils [with Robin Capon, London: Batsford, 2008.] as her main primer and refers to Wolf Kahn's America for balance.
Currently a member of the Art Society of Old Greenwich, Katonah Museum Artists' Association, and the Cultural Alliance of Fairfield County, Rivera has won a "Best in Oils" award from ASOG for their Garden Show, April 2015 and "Best in Show", for the Oil Drum Trash Can competition in Bridgeport, May 2006.

*One would run a wet brush or finger over a seemingly blank image to activate the pigment.

---